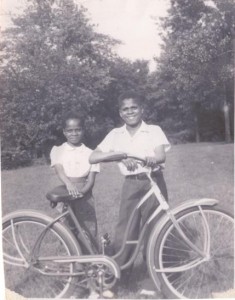 growing up, i didn't know much about my father's side of the family.  i knew my grandparents and my only first cousin, but didn't remember meeting or learning anything about anyone else.  this made things pretty hard when trying to conduct genealogy research.  additionally, everyone in my immediate paternal family died by the time i graduated college.
after connecting with one of my father's first cousins, i had some great leads.  i learned the names of my paternal great grandparents, james benjamin sewell and theresa holmes sewell. as with most families, i only knew their nicknames: honey and nannie and that they lived in new orleans and chicago.
one issue arose though.  i couldn't seem to find my grandfather on the 1920 and 1930 census, but i found all of his siblings and his parents in the same household.  no one ever said he lived without his family.  there was this mysterious child named oswald.  my grandfather's name was jack oscar sewell.  a call to my father's first cousin revealed who oswald was.
"Oswald?  Girl, that's your grandfather.  He just started going by that name.  I don't know why.  I just remember folks coming by the house one day and asking for Jack.  We were wondering who Jack was, and then your grandfather comes out and says it's him.  So he went by Jack from then on."

 
ok. my grandfather was named oswald?  i laughed for days about this.  my mother couldn't believe it either.  no one  ever called my grandfather dad, granddaddy, uncle, or any of those names.  he was jack sewell. straight, no chaser. lol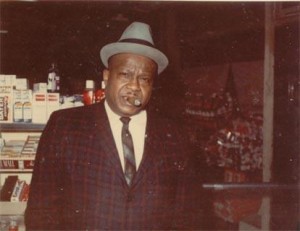 next, i tried to track down oswald/jack sewell's father, honey. i found the marriage date for him and nannie, april 6, 1910 in new orleans.  i found honey and nannie living together on the 1910 census.   my hope was to find the name of honey's parents on the 1900 census, but i actually discovered something else.
not only did i find honey on the 1900 census, but i found him living with his grandparents, smith reeder and nettie reeder, at 6322 annunciation street in new orleans.  i placed the address in google maps and saw that there was still a house there.  wow! unfortunately, his parents were not living in the household.  since he was born around 1890, i didn't have a good lead for the 1880 census.  i did see another grandchild, elnora spears, in the household though.
back to the notes from my convo my cousin.  elnora was honey's sister and she ended up in oakland, ca.  she had sons, one of which was a famous cartoonist named morrie turner.  the cousin had given me their address in berkeley.  says that her, honey, and my father came out on the train to visit elnora and her family when my father was a kid.  my cousin says she doesn't remember honey's mother's name, but that they came to visit because she was dying and living with elnora. she also mentioned that honey and elnora had at least two other brothers, one named amos williams, from danville, il and another whose name she doesn't remember, but who lived in texas.
i got contact information for morrie and we talked.   he also tells me he doesn't remember his grandmother's name, but that he remembered them going to get her from natchez, ms and bringing her back to oakland.  he says she's buried at evergreen cemetery and so are his parents.  after chance trip by the alameda county courthouse, i obtained a copy of elnora's death certificate for $1.  and there, is where i saw her name:  easter williams.
i next ordered elnora's social security application to see if i could glean more info.  there's her name again: easter williams, my great great grandmother.  a member of my genealogy society connects me to another researcher and it turns out, she's from elnora's husband's family.  she sends me pictures of her.  one, appears to be elnora, easter, and two other people who could be easter's parents.
apparently, easter williams is like john smith for african american women living in the south.  lol  it took me years to find her on a census.  i did the "happy dance" when i located her on the 1920 census in natchez, ms, with her husband, samuel williams and a son named alfred williams.
last week, something that should have been done immediately came to mind.  i lived near oakland.  why on earth had i not visited the cemetery?
after visiting the office at evergreen, i found that easter, elnora and george (james) turner, were all buried a few rows from one another and they had headstones.  off i went with the map.  the area they were in wasn't large, but the rows weren't numbered well.  i was hoping it wouldn't take me hours to find it.  luckily, one of the grounds people helped.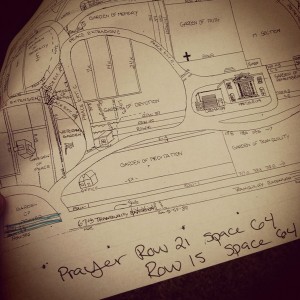 there she was. clear as day.  easter williams, 1857-1946.  a death date. yes!!!  i kneeled for a second at her grave site.  i don't have photos of most of my ancestors, but i do have a lot of documents.  for easter, it was the opposite.  who would have known that our lives would collide in the bay area, of all places.
once i got home, i combed through the california death index again.  no hits on ancestry.com  i then used the free, rootsweb version.  no hits.  maybe i'll try it without having alameda county as the death location.  more than one hit, and one of them was her.  birth date: may 15, 1857, death date: september 18, 1946 in santa clara county. why did she die there?  i ended up with more questions.  lol
i guess it just goes to show.  search more than one version of the same source.  don't rule out cemetery searches. lastly, don't discount everything that family members say.  in my case, what they said was true.  diligence pays off.