Cherokee Freedmen, U.S.Deputy Marshal, all around bad ass, and my 2x great grandfather.
Born enslaved
Ike was born enslaved between 1847 and 1853 in the Cherokee Nation (now northeast Oklahoma). He and his mother, Martha May Richardson, were enslaved by Alzira Price May, a Cherokee by Blood and her husband, Peter May, a white man. Alzira and her husband were Old Settlers, Cherokees who had removed voluntarily prior to the Trail of Tears. Many accounts have noted that he was tri-racial – Black, Cherokee, and white – which is true. On the other hand, many fail to name his parents or attribute his ancestry to the sexual assault of his maternal grandmother, Annie May Humphries, by Cherokee Chief John Rogers.
Civil War Veteran
Ike enlisted to fight in the Civil War on August 10, 1862 in Mound City, Linn, Kansas as part of the First Kansas, the first Black unit to be enlisted, see battle (Battle of Island Mound), and have casualties in the Civil War. The unit later became the United States Colored Troops 79th Regiment.

Ike completed his enlistment term of three years on October 1, 1865 and was mustered out at Pine Bluff, Arkansas as a private in Company E. He fought and survived several battles such as the Battle of Cabin Creek, Battle of Honey Springs, Battle of Poison Springs, and Battle of Timber Hill.
Husband and father
Known marriages/relationships and children of Isaac Rogers: Caroline James: Florence Rogers Bratcher and Luther Clyde Rogers

Alice Banks Rogers: Eddie Rogers

Sarah Vann: Nelson Vann Rogers, Theodore Cooweescoowe Vann Rogers, Sr.

Ruth Vann: no children

Sarah Fry Rogers Whitmire: Ethel Jane Rogers Reed, Raymond Andrew Rogers, Roy McKinley Rogers
U.S. Deputy Marshal
Ike took his first oath to be a marshal on October 4, 1892 at Fort Smith. He was tasked with defending the Western District of Arkansas under Judge Isaac Charles Parker, the infamous Hanging Judge and was a colleague of Bass Reeves.

Ike took additional oaths in 1893 and 1895, working at least until a year before his murder in 1897.
Source: National Archives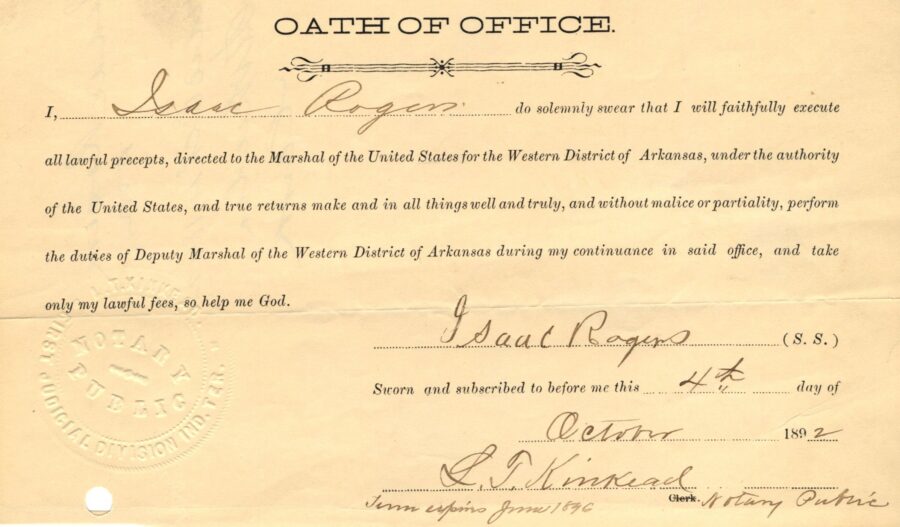 Captured Cherokee Bill
Ike (labeled #1) captured several outlaws during his tenure as a marshal, but his most famous act took place on January 31, 1895 in the Cherokee Nation. Ike, with the help of his neighbor, Clint Scales (labeled #2), and his third wife, Sarah Frye Rogers Whitmire, successfully apprehended Cherokee Bill (labeled "Bill") who was described as one of the most ruthless outlaws in the Indian Territory.
Source: Oklahoma Historical Society
Murdered by Crawford Goldsby
Retribution was on the menu as Clarence Goldsby sought revenge for the capture and eventual hanging of Cherokee Bill, his brother. It was morning at train station in Fort Gibson, Oklahoma on April 20, 1897. Ike exited the train and was shaking the hands of friends and associates who had gathered for a payment of funds from the Cherokee Nation. Goldsby fired at least five shots, killing Ike instantly.
Ike Rogers has many descendants. A large segment of us live just north of the Cherokee Nation in Kansas City, others are in California, Texas, Tennessee, Georgia, and more. We are young, we are seasoned, and we carry his legacy on proudly.
Follow me on Social Media