When DNA reveals a relationship between you, your known cousins, and 15 descendants of Old Settler Cherokee Chief John "Nolachucky" Rogers, Jr.
If you've followed my blog for any amount of time, you know I've spent quite a bit of time talking about my ties to the Cherokee Nation, both as a Cherokee Freedmen and also a descendant of the Cherokee. My research on this side of my family has grown times 10 since my recent trip to Kansas. It seems like every day for the last month plus I've found something new. Trust, I have A LOT of stuff to share with you all and it's going to take me months to get it all out. This new DNA discovery is one of those things.
The Ground Floor: Combining Traditional Genealogy with DNA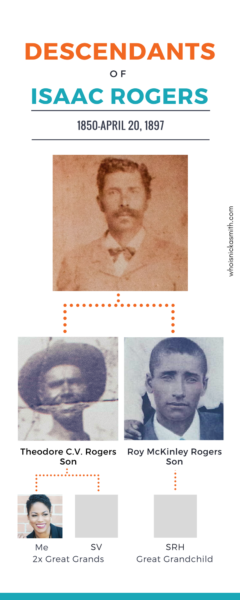 There are five people who are descendants of my great great grandfather Isaac Rogers who have DNA tested. Three of the five are me, SV and SRH. Our relationships have been verified through traditional genealogy and oral history, we share DNA at levels that we're supposed to, and have inherited DNA from our shared ancestor that we have in common.
Me and SV are descendants of Ike's fifth child, Theodore Cooweescoowee "Cooey" Vann Rogers, Sr., and SRH is a descendant of Ike's eighth and final child, Roy McKinley Rogers. Theodore and Roy were half brothers sharing only a father.
Me and S.V. second cousins. Due to how the generations fell on this particular line, me and SV are half second cousins once removed with SRH. (Click here for an explanation of once removed relationships). Be sure to keep this information in my your pocket, it's a crucial reason why the DNA matches fell a certain way for SRH and not me and SV.
This means that any DNA me, SV, and SRH share is from Isaac Rogers and his ancestors. This takes us well behind the brick wall since Ike was born about 1850.
Great, great, great, great grandmother was a slave maid during the Trail of Tears…She was raped…After she became pregnant, she went out into the territory of Oklahoma. No one knows great great great great grandma's name. We're related to Will Rogers – go back to the rape.
No one ever wants to get this news. Ever. I had to make sure the event was never glossed over or forgotten, so I sought out to find which of my ancestors was victimized. I had to do more genealogy research to determine exactly who she was. This meant tracing our origins beyond Isaac Rogers. Here's what I've found so far:
Ike's paternal line:
Father: Nick or Jack Rogers – b. about 1814 in the Cherokee Nation, died before 1865 in the Cherokee Nation
Paternal grandparents: Jesse Rowe aka Shoo-cow/Che-cow – b. ?, died before 1835 and Lucinda "Lucy" Rogers Musgrove (b. about 1777 in Georgia (Cherokee Nation East), d. between 1887-1892 in the Cherokee Nation West
Paternal great grandmother: Little Nan (mother of Jesse Rowe) – unknown birth and death dates
Jesse Rowe aka Shoo-cow/Che-cow was a former slave of Shoo-cow/Che-cow Rowe. Lucinda was a former slave of Robert Rogers, his wife, Sallie Vann Rogers Musgrove, and his grandson, Clement Vann Rogers, father of humorist Will Rogers.  Sallie, Clement, and Will were Cherokee.
Ike's maternal line:
Mother: Martha May Richardson – b. between 1826-1838 in the Cherokee Nation West, d. October 10, 1911 in Ft. Scott, Bourbon, Kansas
Maternal grandparents: Annie May Humphries – b. between 1810-1820, d. before 1900 likely in Kansas and Edward Humphries, unknown origin
Ike, his mother Martha, and his maternal grandmother Annie May Humphries were all former slaves of Alzirah Price May, a Cherokee.
DNA results of one of the five people tested tell us that Ike's direct paternal line traces back to West Africa.
 
Based upon the information I had gathered, Annie May Humphries or Lucy Rogers Musgrove could have been my female ancestor who was victimized when taking into account their approximate birth years and when the Trail of Tears took place. I soon ruled Lucy out because a male child born of her and a man with predominate European and/or Native American ancestry would produce a direct male lineage tracing back to Europe or America, which is not the case based on DNA.
This means Annie was likely the female ancestor. I know that Annie's slaveholder was noted on the Old Settler Roll1, meaning that she arrived in the Cherokee Nation West prior to the forced removal in 1838, but Martha's approximate birth year fell within the right time period.
Fifteen is the Magic Number
The cornerstone of discovering relationships based on upon DNA and genealogy is repetition. Repetition of surnames, locations, and pedigrees is key. In this case, the surname Rogers was repeated over, and over, and over again in the matches me, SV, and SRH had in common. I then looked closer. There were more than a few DNA matches who were descendants of Cherokee Chief John "Nolachucky" Rogers, Jr., and they were through several of his children:
W.D. Nelson Rogers
Cynthia Rogers Crump Coker
Thomas Lewis Rogers, Sr. father of Cherokee Judge Thomas Lewis Rogers, Jr.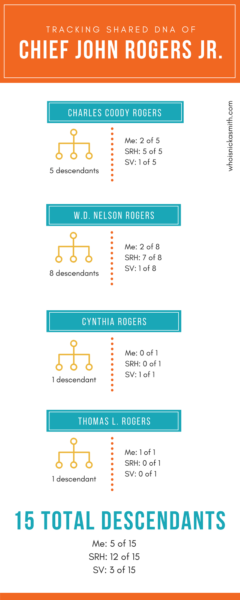 In all, me, SV, and SRH matched 15 different descendants in different combinations.
The descendant group with the largest number of matches was that of W.D. Nelson Rogers who had a 8 descendants that matched our side.
For the entire group of 15, I only matched five of the 15 and SV matched only three of the 15, SRH matched 12 of the 15.  In some instances, SRH shared upwards of 20cM of DNA with a match while I shared upwards of 40cM with one match who shared no DNA with SRH or SV. This speaks to the random nature of how DNA from our ancestors appears in our genomes and how DNA manifests when a family member is a generation closer to a particular ancestor.
Based on the amount of DNA shared, and the projections given by AncestryDNA, Chief John Rogers would be me and SV's 4x great grandfather and SRH's 3x great grandfather.
Going Further
The next phase of research is cementing if one of Chief John Rogers, Jr.'s sons are the actual father of Martha, pushing things back another generation. Preliminary research indicates this could be the case as DNA results for SRH show matches that are relations to the wife of Chief John Rogers, Jr., noted as Elizabeth Coody. Although, a high level of intermarriage exists within this population, so further research would have to be done to conclude this. Also, establishing the locations of Chief John and his sons during the period of 1826-1838 is key.
Debate has ensued for decades as to how Robert Rogers, paternal grandfather of Will Rogers, was related to Chief John Rogers, Jr. Of course the jury is out on that one, but there is definitely a tie between my formerly enslaved family members and Will Rogers through slaveownership.
Updates
There are more descendants of Chief John Rogers, Jr. who have appeared in the DNA matches of me, SRH, and SV. To date, they number more than 50. The table below, which was put together in late 2017, includes data for half of the 50. 
Attention: The internal data of table "2" is corrupted!
Sources
(1) May, Eliza, group 52, Old Settler Roll, 1851, Records Relating to Enrollment of Eastern Cherokee by Guion Miller, 1908-1910. Page 27. Accessed 8 May 2017 via Fold3.com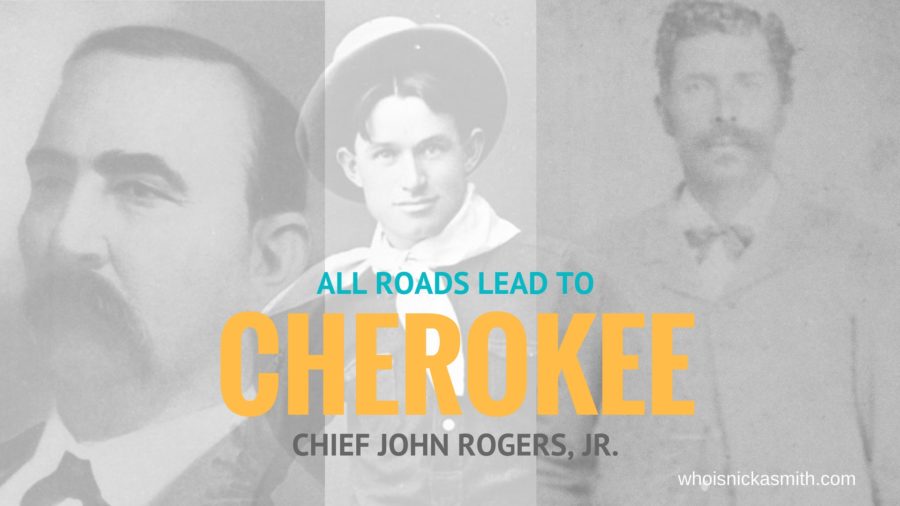 Featured image: left to right: Cherokee Chief William Charles Rogers, Humorist Will Rogers, Isaac Rogers