Your favorite crew in genealogy.
Trask 250 Multimedia Series
In late 2014, I uncovered one of the biggest finds of my genealogy career thanks initially to genetic genealogy and later traditional family history research. 
The Trask 250 series amplifies the voices of the more than than 6,000 people I am now connected to through DNA, community, and kinship who have ties to a defined enslaved community based in Adams and Wilkinson Counties in Mississippi, and Concordia and Pointe Coupee Parishes in Louisiana.. 
These extraordinary folks were or had ancestors that were enslaved by brothers Israel Elliot Trask, James Lawrence Trask, Augustus Trask, and/or William Porter Trask along with their niece Charlotte Pynchon Davis Ventress, nephew Augustus Trask Welch, and James Alexander Ventress. The Trask family was largely based in Massachusetts but profited from plantations in Mississippi and Louisiana.
Additionally, this defined enslaved community is uniquely positioned as it has ties to the origins of Amherst College in the north and the University of Mississippi (Ole Miss), in the south. 
A note of thanks
This project has taken on a life of it's own and I am now fortunate to include the voices of other descendants such as Bridge Bajoie, Christopher Alexis, Jacqueline Arbuthnot, Lillie Palmer-Curtain, research of Amherst College students, such as Anna Smith, and resources such as the Israel Trask Papers at Robert Frost Library at Amherst College. Special thanks to Michael Kelley, the Archives staff, Anna, and faculty, all at Amherst College, and those who have been an incredible assets in my ongoing work on this project.0
Think you're connected? Check out this PDF for ways to confirm. 
Video: Held in the Balance – The Lecture
On October 4, 2021, I was given the opportunity to share my research with the Amherst College community care of the college's Steering Committee on a Racial History of Amherst College.
Israel Trask, a trustee/founder of Amherst College, served on the Board of Trustees from 1821-1835, and used money generated from his plantation operations for the general fund. The enslaved who lived on those plantations were the Trask 250.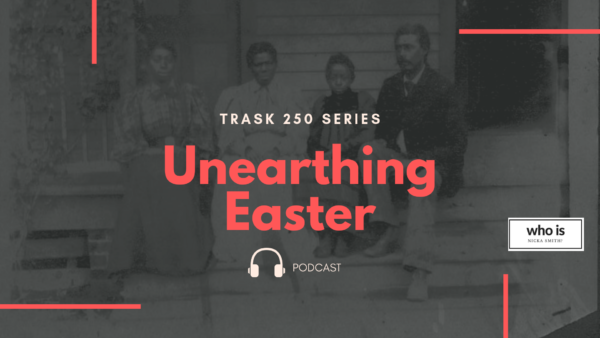 Podcast Episode 1: Unearthing Easter
For years, my paternal grandfather's family origins were a complete mystery. That's until two phone calls changed everything I thought I knew.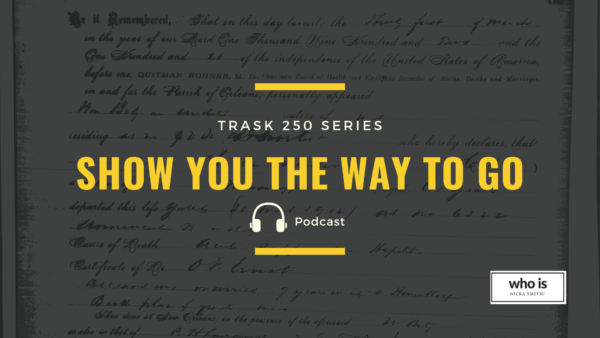 Podcast Episode 2: Show You The Way to Go
Using DNA, community, and slavery era research to resurrect a group of formerly enslaved people in Mississippi and Louisiana.
Blog: Pardon Me
James Alexander Ventress wanted his power back. He was desperate to get it, even though it appears he flat out lied to ensure it was back in his grasp.
Podcast Episode 3: When Trask Meets Tappan
The story of a couple, the families they descend from, and the duality of their life as descendants of both slaveholders and abolitionists in the north.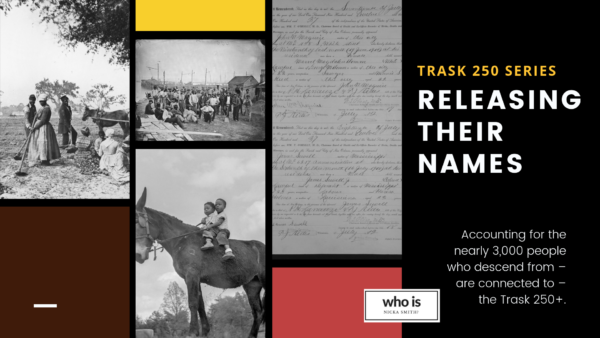 Blog: Releasing Their Names
I've tracked nearly 3,000 people to the formerly enslaved of the Trask and Ventress families. Now, I'm celebrating that milestone by releasing (most of) them online.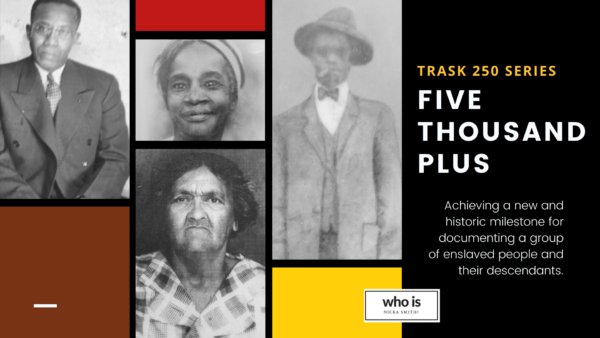 Blog: Five Thousand Plus
Achieving a new and historic milestone for documenting a group of enslaved people and their descendants.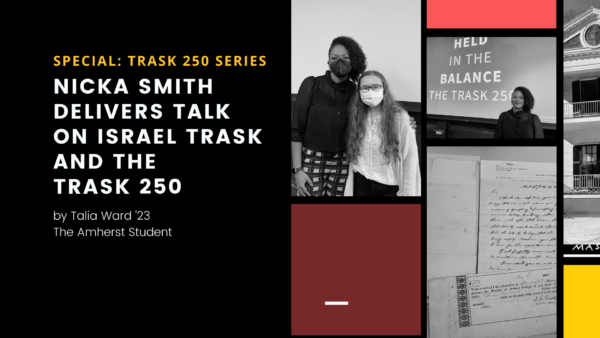 Special: Nicka Smith Delivers Talk on Israel Trask and the Trask 250
"Genealogist Nicka Smith presented her research into the people enslaved by Israel Trask and their descendants in a talk given on Oct. 4 in Lipton Lecture Hall. The presentation was sponsored by the Steering Committee on the Racial History of Amherst."

Reporting by Talia Ward '23, Amherst Student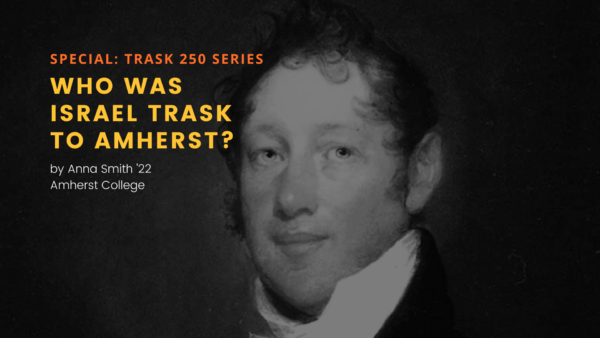 Special: Who Was Israel Trask to Amherst?
Amherst College student Anna Smith '22 details the story of Israel Trask's ties to Amherst College by noting his integral role in securing it's charter with the state of Massachusetts and more.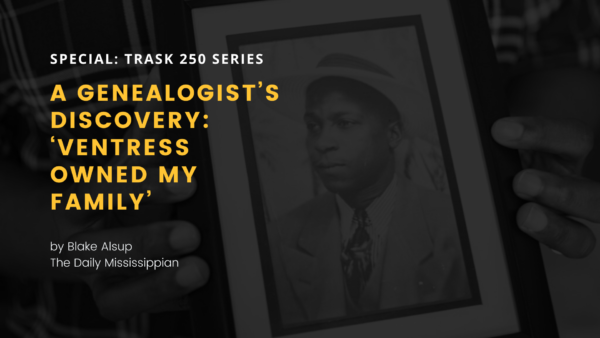 Special: A genealogist's discovery: 'Ventress owned my family'
"James Alexander Ventress, the namesake of Ventress Hall on the University of Mississippi's campus, authored the bill to establish the university in 1840. He was also a slave owner.
Nicka Sewell-Smith, a genealogist from Bolivar, Tennessee, is the great-great-granddaughter of Easter Parker, a slave owned by Ventress. She first notified The Daily Mississippian of this connection in a tweet."
Reporting by Blake Alsup, The Daily Mississippian
Photo by Devna Bose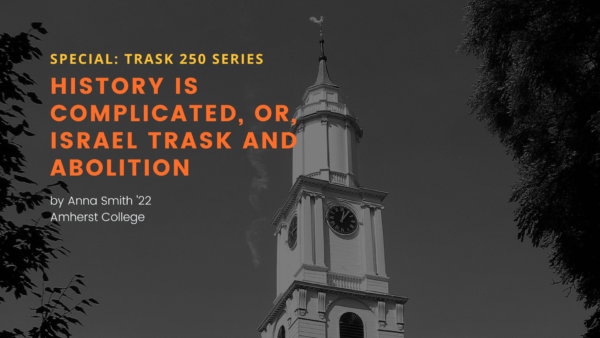 Special: History is complicated, or, Israel Trask and Abolition
Anna Smith discusses Israel Trask's life of being an enslaver and his being closely adjacent to many who fought for slavery's abolition.
Special: Israel Trask and the 1811 German Coast Uprising
In March and April 1810, Israel Trask mortgaged $80,000 (equivalent to $1.2 million today) against the vital lives of 46 enslaved people in Adams and Wilkinson Counties in Mississippi. The mortgage was used to purchase a plantation on the German Coast outside of New Orleans. Six months later, several of the enslaved people on the plantation he bought were part of the 1811 Louisiana Slave Revolt and were executed for their alleged role. 
Anna Smith writes about Trask's ties to the long ignored, but important event. 
Special: Buying the Trask House:
A Chance to Confront our Past
Anna Smith sheds light on the slaveholding past of Israel E. Trask for the Amherst Student and argues that the college should purchase the Trask house and turn it into the Mary Sly Center for Restorative Justice.