We're more than 100 episodes into BlackProGen LIVE. That means that there's at least 100 hours of content available to help you jump over your research hurdles. 
Yet, the viewers say the episodes are never long enough.
The panel also doesn't get a chance to cover everything we want super in depth after spending weeks and months gathering all we can to share as much as we can.
Well, I think I have a solution for that!
Beginning in January 2020, I'll be teaching selected companion webinars that will go deeper into what we discussed in the most recent episode.
Ever wanted to see the suggestions we gave used in real scenarios? Figure It Out Fridays is just for you.
It's one thing to talk in grand terms with perfect endings, but how do things REALLY work when you try to apply them to the complexities of a real family? What happens when we don't have all the information or perhaps a "Pa, Not Pa" situation arises? What if there are absolutely NO leads? 
Figure It Out Fridays are where the BlackProGen LIVE episodes get practical.
Solidify what you learned during BlackProGen LIVE episodes with webinars to continue the conversation and learning!
These webinars are free to watch. Purchase the syllabus and access to the recording (for six months) for just $11. Registration is limited, so be sure to secure your spot today for the first one scheduled for Friday, January 17. Additional dates will be added as the season, and the need, arises!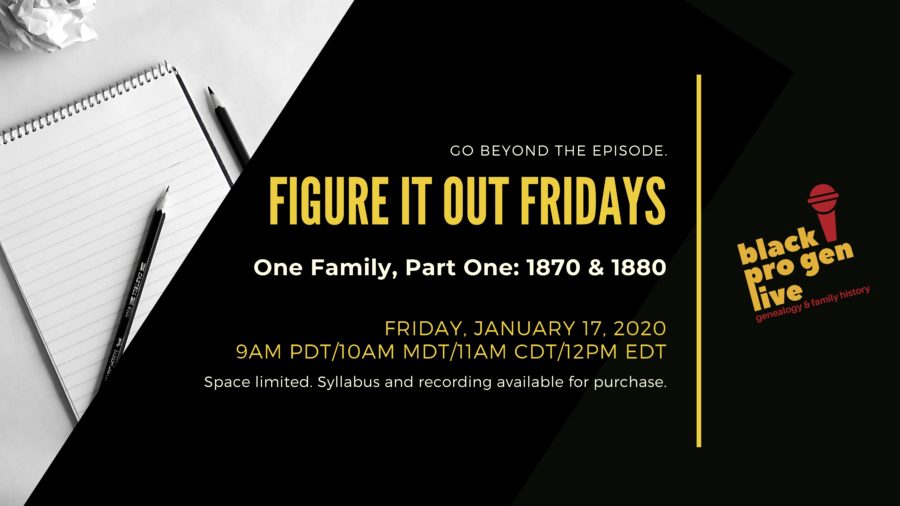 One Family, Part One: 1870 & 1880
Using a real family, learn how to glean and process information on these two census sets, how to pursue the leads they contain, and how to reconcile all of it to get a better picture of your ancestors in the latter part of the 19th Century.