This week kicks off Black History Month and it's busy, and better than ever!
Can you believe it's already the end of January?!? Gosh, one month of 2017 is already under our belts and we're super close to one of my favorite times of the year: Black History Month. That means there is going to be programming galore online, offline, and on television. Here's the latest about what's going on in our world.
How About a Webinar?
Curious about how photography can be incorporated into your genealogy research? Or, maybe you want to go beyond the basics in what you know so you can do more than operate your camera in auto mode. Join me at 11:00am PST/1:oopm CST/2:00pm EST on Wednesday, February 1, 2017 for my first of two Legacy Family Tree Webinars in 2017, Photography for Genealogy. Click here to register.
Can't make it on Wednesday? I'll be teaching another webinar in September for Legacy. Click here for more details.
More BlackProGen LIVE? Sure. 🙂
BlackProGen LIVE is kicking off our 2017 Black History Month Series with an episode titled "Loud, Resounding Voices: The Slave Narratives on Wednesday, February 1 at 6pm PST/8pm CST/9pm EST. More than 2,300 first-person accounts of slavery and 500 black-and-white photographs of former slaves were collected in the 1930s as part of the Federal Writers' Project (FWP) of the Works Progress Administration, later renamed Work Projects Administration (WPA). (1) Take a deep dive into these records to discover how they can help add depth to your ancestral story or break down insurmountable brick walls.
Don't forget we'll be joining you weekly through the end of February, so tune in to the shows that follow:
Registration for 2017 MAAGI is Open!
The wait is over! Don't be left behind this year. Make sure you register for the 2017 Midwest African American Genealogy Institute which will be held July 11-13 at the Allen County Public Library in Ft. Wayne, IN. This event has become such a success that Track 2: DNA & African American Genealogy (coordinated by Bernice Bennett and taught by me, her and Shannon Christmas) has already filled! There's still plenty of learning and growing to be done in the other tracks:
Track 1: Fundamental Methods & Strategies for African American Research (Shelley Murphy, Coordinator)
Track 3: Intermediate Genealogy – Pre & Post Slavery Era Research (Janis Minor Forté, Coordinator)
Track 4: Genealogy Writing From Planning to Publication (Angela Walton-Raji, Coordinator)
Click here to register online and click here to register via mail.
Don't Forget About BlackProGen LIVE Panelists
Every other Friday hear from Angela Walton-Raji through the African Roots Podcast which now has over 400 episodes and counting.
Research at the National Archives and Beyond hosted by Bernice Bennett has the following episodes scheduled for this month at 6pm PST/8pm CST/9pm EST:
Television is Gonna be Awesome Too
PBS ALWAYS has the best programming when it comes to Black History Month. Here's a sampling of what they're showing this month (2):
February 6: Birth of a Movement, Independent Lens – "Learn how D.W. Griffith's The Birth of a Nation unleashed a battle still waging today about race, representation and the influence of Hollywood."
February 10: The Library of Congress Gerswhin Prize, Smokey Robinson – "Enjoy an all-star tribute to Smokey Robinson, the 2016 recipient of the Library of Congress Gershwin Prize for Popular Song."
February 10: Get in the Way, Independent Lens – "Follow the journey of civil rights hero, congressman and human rights champion John Lewis."
February 13: Accidental Courtesy, Independent Lens – "African American musician Daryl Davis has a peculiar, controversial passion: meeting and befriending members of the Ku Klux Klan in an attempt forge racial conciliation."
February 20: The TALK – "In the wake of recent tragic and fatal events between men of color and law enforcement, learn how Black and Hispanic families counsel their kids to stay safe if stopped by police."
February 21: Maya Angelou: And Still I Rise, American Masters – "Journey through the prolific life of the 'I Know Why the Caged Bird Sings' author and activist who inspired generations with lyrical modern African-American thought."
February 27: Dr. Henry Louis Gates premiere's his newest endeavor with PBS, Africa's Great Civilizations.
There is also programming that is specific to your local PBS station. Be sure to check the website for more.
What are you looking forward to this Black History Month? I'd like to hear from you in the comments below.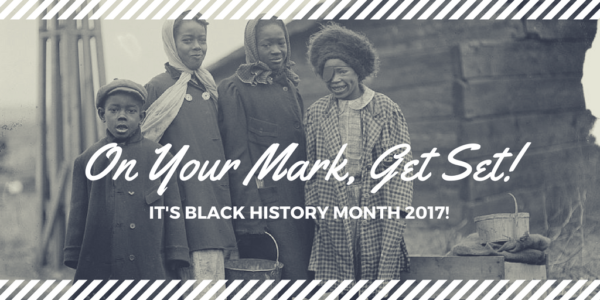 Sources
(1) "About This Collection – Born in Slavery: Slave Narratives from the Federal Writers' Project, 1936-1938." The Library of Congress. N.p., n.d. Web. 30 Oct. 2016.
(2) "Black History Month Programming | 2017." PBS. PBS, n.d. Web. 29 Jan. 2017. <http://www.pbs.org/black-culture/explore/black-history-month-facts-and-films/#.WI5MQbYrJE6>.