Day 7's collaborative blog post was written by Bryce Bell [BB] and Taylor Wheeler [TW], two of the splendid 13 who are part of Think China 2013.
[TW] Today our Think China group went to Tiananmen Square. Tiananmen Square is one of the symbols of china built in 1420. Tiananmen means "Heavens Gate" with "Tian" meaning "heaven" and "An" meaning "peace."
[TW] The square is extremely large and they have tourist stores as well as other things to look at. There were thousands of people there.
[TW] "It was beautiful and a lot of people go there to learn of history from the city" said Lakeisha Harris.
[TW] Even though it was interesting and beautiful, it was also difficult to visit for our group. Anthony Gallon mentioned, "It was very uncomfortable and different because a lot of people were starring and taking a lot of pictures of us." Native people stare and ask to take pictures alot because it is not common that they see African Americans in a big group. Some of the people would stop, pull on us, and jump in our face when we were listening to the tour guide. We had to keep moving nonstop just to get away and some space.
[TW] In addition to visiting Tiananmen Square, we also went to the Forbidden City. There are three forbidden Cities in China, although most tourists are attracted to Beijing's Forbidden City. The Forbidden city was a place where their goal was to keep common people out. If you were considered common, you had to get permission to enter.
[TW] The Forbidden City was built with sticky rice and egg yolks surrounded by 22,000,000 bricks. It stands with fifteen layers of bricks so no intruder would ever think of climbing over or digging a hole under it. The Forbidden City has 8,000 rooms.
[TW] "Going to the Forbidden City was different because the structure is more complex. It has more culture than most buildings I know of in the states, and it comes with interesting stories" mentioned Ibrahima Mobley.
[TW] The Forbidden City had four emperors who have lived there. Their family and some close friends also lived there. I was very interested in one of the stories told about the Dragon Lady. The Dragon Lady was one of the many living in the palace; she stayed with her son and nephew. When her son was 19 years old he died of smallpox, so the Dragon Lady put her four year old nephew on the throne. Not only was the Dragon Lady an evil woman, but her nephew inherited an evil gene too. For the last ten years of his life, he and his family were on house arrest. Surprisingly, when he was let off of house arrest, the Dragon Lady poisoned him with arsenic. His reign ended in 1908.
[TW] The Forbidden City is an amazing place to visit. It also has smaller walk-in museums for you to look around in. They have old rooms still decorated so you can see how they use to be set up. They also turned some of the rooms into mini stores for you to walk in and buy whatever catches your eyes. It was and still is a wonderful opportunity to be able and see all the history behind China's most popular Forbidden City. I cannot wait to return to the United States and share this with not only family and friends, but also my community as well as California in general.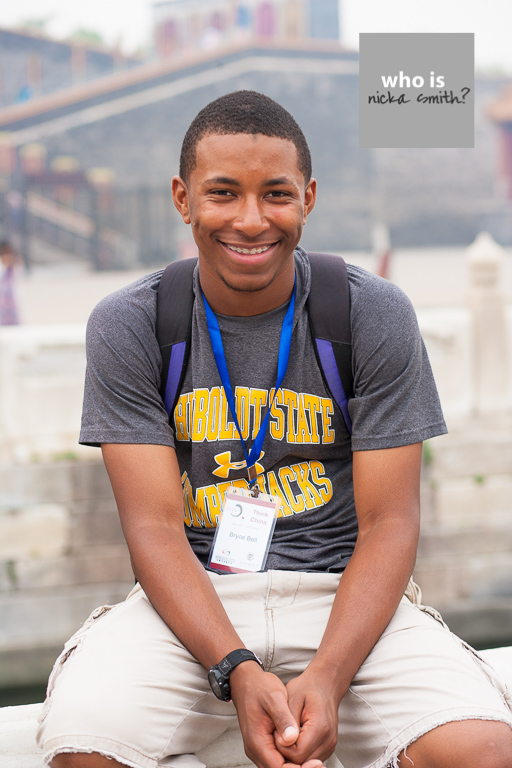 [BB] The landscape or view that comes to mind when someone thinks of China has to include the Great Wall. However, something that I'm not sure comes to mind too often is the Peking Opera.
[BB] Well, today our group had the chance to share both of these historical and cultural iconic experiences. "The Great Wall is over 5000 miles long and the fact that a group from Oakland gets to walk even one mile of it is AMAZING!" said Ibrahima Mobley.
[BB] This was exactly what the reactions were like after the climb and descent from the Great Wall. We entered into the Badaling section for our first encounter with the mammoth wall. The wall was over 2000 years old, built by the local farmers to protect land but then the first emperor (Ching Dynasty) improved it and then it was later modified to keep out the Mongolian Dynasty. The wall stands 20-30 feet high with a width of 30 feet. With these stats, it wasn't easy to make our way towards the top while also having major inclines. However, despite these things, we all made it towards the top. We didn't have time to go all the way to the top, but the important thing was that we made it very high together.
"At first I struggled physically because I allowed my the negativity in my head lead me to think it was impossible to climb [it]. However, I put my emotions and negativity to the side and focused on the big prize 'walking the Great Wall.' All it took was strength and knowing your limits. This is a experience that I never will forget. It was worth every lost breath, weakened knees, and drip of sweat," said Khristan Antoine.
[BB] Almost no one on this study tour had any idea what the Peking Opera was before today. Coming from the western world we saw opera as singing in different languages with large vocal range. However, Chinese Peking Opera has been around for thousands of years. It was rich history and culture with beautiful voices. "My interpretation of opera has changed because of Peking and it wasn't a bad way to spend my birthday either" said Rahni Johnson. The experience of the show was great for everyone in attendance.
[BB] To conclude, the day was filled with experiences that were new to everyone. The Great Wall was a once in a lifetime experience whether you walked or ran toward the top – like many of us did! Likewise the Peking Opera was one of the biggest surprises of the trip. Everyone got something out of it. At the end of the evening a surprise Birthday cake was presented to 3 of the delegates whose birthdays happen during the program.
[BB] The memories we took away were that 1) Finishing together outweighs any single triumph and 2) sometimes not knowing makes for a great experience!