After more than seven months and 40 hours of pre trip classes, lectures, and bonding experiences, departure day had finally arrived. 13 young adults and three chaperones who make up Think China 2013 had made it to their long awaited goal – the beginning of a life changing journey half way across the world in a country none of them had ever stepped foot in.
"When I arrived at EOYDC…I was nervous and scared. I [had] heard so much and the day finally came!" said Taylor Wheeler.
Hugs, prayers, laughs, and affirmations flowed. Appreciation was extended. It was clear that there more than a study tour was happening for 14 days. It was almost as if the sojourning 13 had been transformed into explorers, younger Matthew Hensons, going into a foreign land, being the first in their world to share about it's exploits upon their return.
"My quote for today was 'Just go with it. Try something new.' This was my first time flying out of the country," said Lakeisha Harris.
After the long 12 hour flight (which included several meals, snacks, and movies), the group made it through the enormous Beijing International Airport to meet representatives from the China United States Exchange Foundation (CUSEF). A sign welcoming the "Northern California Delegation" lead the way as the warm and muggy climate of the city seemed to wrap its arms immediately around the entire group. Their first destinations were the hotel, and later, a dinner with foundation and Beijing Foreign Studies University leaders.
"Looking around, [it] looked just like the United States," said Marisa Jolivette.
"As we drove down the street, stores lined up the sides of the road and there was a KFC and McDonalds on just about every corner. I found that quite crazy because you don't see [that many] KFC's in the U.S. but they are all over Beijing," said Rahni Johnson.
"I saw lots of tall buildings…and noticed there aren't any one story buildings. They're huge!" said Umiika Rose.
Kind words were expressed by Yonghui Li, dean of the School of International Relations and Diplomacy at the Beijing Foreign Studies University and Regina Jackson, lead chaperone.
Alexander Tzang of USEF noted that the dinner was themed "Shake the Dust Off." This was in reference to the practice shaking the dust off of ones shoes after walking for a long distance to join together with others at their destination.Tzang also talked extensively about the similarities between African Americans and the Chinese along with opportunities for growth that the United States and the 13 had in the future when it comes to China.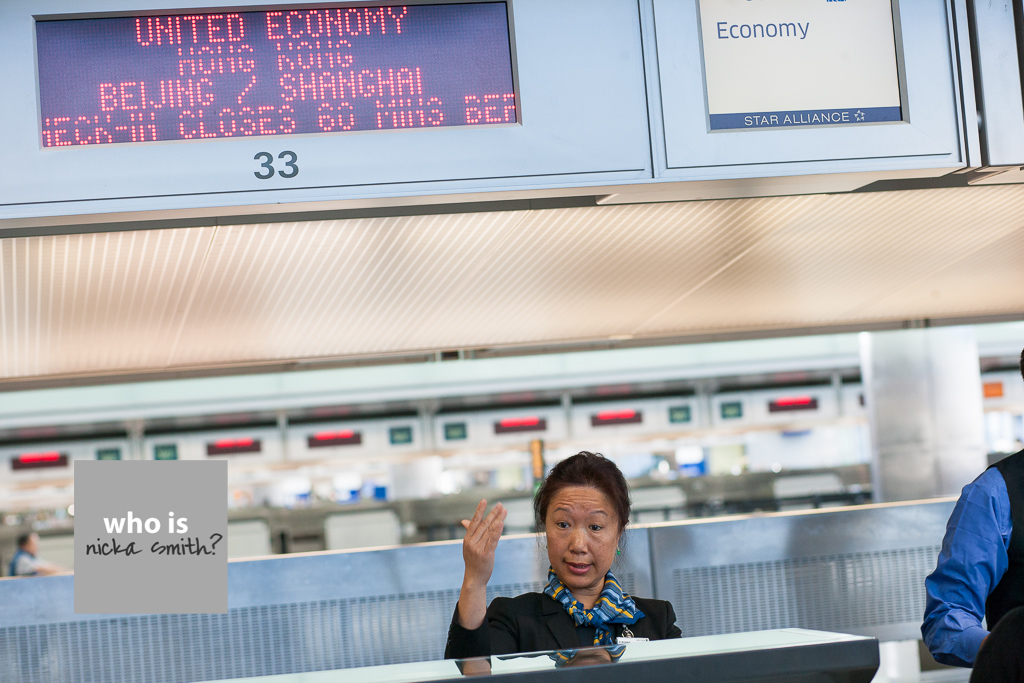 "What shocked me most [were the similarities] between the Chinese and African Americans. We [both] went through social injustice. We're just like them!" said Harris.
"[I learned about] the relationship between China and the US and the overestimated ideas of one owning the other while both have different strengths and weaknesses" said Bryce Bell.
Next, the group dined together on a cornucopia of traditional Chinese food selections including peking duck.
"The main course was duck…it tasted like turkey and I loved it. There were many other meat dishes that pleased my taste buds and got me excited. I'm not a person who likes to experiment with food, but this food…was absolutely delicious," said Johnson.
The long voyage was clearly worth it. Despite losing nearly a day due to the time change, the 13 were excited to continue learning even more during the days ahead.
"The first day experience makes me so happy because of how much I can bring back to the kids [in Oakland]. Information and knowledge help them become better leaders. Hopefully this will inspire their dreams to travel and to go further than just China." said Bell.
"They made me feel honored and blessed to have an opportunity in which we can get our own perspective of what China was like rather than listening to others and reading about it. To be part of an opportunity so important is a life changing experience," said Jolivette.