Marriage records are one of the most sought after sets of documents in family history. Most begin their search for them in hopes of locating a maiden or prior name for an ancestor while some utilize them as a means to unearth connections to community and extended family using leads like witnesses or bondsmen.
Whatever the time period or the end goal, marriage collections are a key element of the genealogy experience. An application, license, or index is amazing, but what if you could get even more by expanding your search to additional collections? Enter the Newspapers.com Marriage Index!
Say I Do to the World's Largest, Searchable Digital Archive of Wedding Announcements
The Newspapers.com Marriage Index collection adds to the world's largest, searchable digital archive of newspaper published historical wedding announcements. These records can include information on engagements, marriage license applications, wedding announcements, and more. These records can help your family history search by listing crucial details about family members, and can include ages, residences, occupations and parents' names.
Machine learning was used to take up the monumental task of indexing the initial collection of more than 200 million records. An expansion of the collection in 2021 is expected to increase the total record count to 300 million. The process to create the collection is similar to the effort that created prior releases like the U.S. Yearbooks, 1900-1999 and Newspapers.com Obituary Index.
Ancestry members with a Newspapers.com Publisher Extra subscription have a 1-click option to view every full announcement on Newspapers.com. Some announcements may be accessed with just an Ancestry All Access or Newspapers.com Basic subscription. Certain newspapers require a Publisher Extra subscription as certain newspapers require additional licenses to view their content.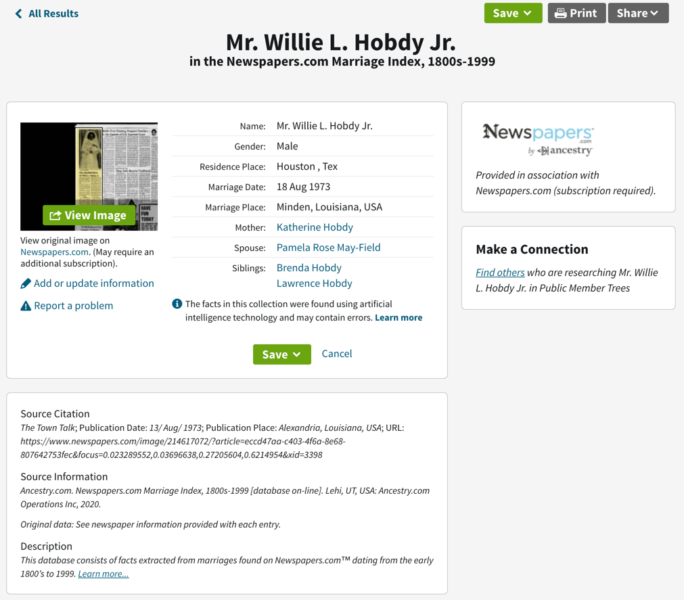 I got great hits for records for family members when I took this new collection for a spin. You really get a two-for or more by having so many newspaper published marriage related records in one record set.
You'll see in the examples that I found two records for my cousins Willie and Pamela Hobdy. One hit was for the announcement of their engagement while the other was a detailed account of their wedding day.
I really like the fields that are indexed since I focus a lot on communities and researching beyond direct family members. In the examples, you can see how easy it is to trace back at least one generation or see family groups based just on the indexing.
Working Smarter Not Harder – Look on Your Tree for Hints
While it's always great to search for ancestors directly, allow the system to do the work for you to find even more. Check for new marriage record hints on your tree to see if results pop up for the Newspapers.com Marriage Index. The systems at Ancestry are constantly trying to help you gain more information on your ancestors by searching top databases for you and giving suggestions as hints. You can view hints on an ancestor's profile page in your family tree by clicking the Hints tab. See the video below if you're not sure where to find it.
Even if you don't have an existing Newspapers.com membership, you can always sign up for one so you can see more than just the index for records of interest. Again, some of the clippings that are part of this marriage collection may require a Publisher Extra subscription, so be mindful of that when you sign up and bundle your subscriptions (Ancestry, Fold3 and Newspapers.com) together for the best deals.
Willie and Pamela Gain "Someone to Love"
Cousin Pam is the daughter of Percy Mayfield, a well-known singer-songwriter who wrote several hits for artists like Ray Charles (like "Hit the Road Jack") and whose song "Please Send Me Someone to Love" has been covered by everyone from Dinah Washington, B.B. King, Sade, Fiona Apple, and John Oates. Her wedding to Willie had to have been a highlight of the social events during the summer of 1973; and based on the engagement announcement and the article detailing the wedding, it totally was.
While marriage licenses, applications, and indexes are super important, they aren't able to convey the sights, sounds, and emotions connected to the nuptials they document. They also don't capture everyone that was involved in helping the couple jump the broom or tell you much beyond vital records like facts about the betrothed.
I loved being able to read the details around who was part of Pamela and Willie's wedding party, which included other shared family members, as well as what everyone wore, the type of florals carried, and learning about their pursuits while they went to Southern University together.
My absolute favorite part of this was being able to share the clippings with their children who, along with their grandchildren, now have access to more records detailing their life as young people in love, gladioli and chrysanthemums to boot. 
today!
#AncestryPartner