Just because you have one high profile story or singular document noting a fact doesn't mean that the journey is over.
The name George Stinney, Jr. has been in the news lately since the state of South Carolina FINALLY decided to exonerate the 14 year old after he was wrongfully executed for murdering two girls in 1944.   I've seen friends, geneabuds, family, and more eagerly sharing links to articles covering the story.
As a family historian, genealogist, and history buff, I had more questions than what was just being provided on the surface about George. I knew there was more to this 14 year old than just the fact that he was the youngest person executed in U.S. history.  I also saw this as a teaching opportunity.
So, let's take a virtual cab ride as to why researchers need to continue asking "So WHAT?!?" (in the words of my geneabud Dr. Shelley Murphy) and and remind us all about why we need to do reasonable exhaustive searches.
Block #1: A Death Index
A quick search of FamilySearch shows a record in the South Carolina Deaths, 1944-1955 index that matches what appears to be the George I'm looking for.  The crucial information for me is as follows:
Name
Event Date
Gender
Race
Age
Approximate birth year
Birth place
Name of father, but no name of mother
Residence place
Burial place
Burial date
For most, this would be enough information, but for me, it leads to further questions:
Do we KNOW that the "event date" is the death date when we haven't seen the actual death certificate?
Are we SURE the burial date is right unless they buried him in some state sponsored cemetery?
Why is his father's name listed but not his mother's? Did the informant NOT know it? Who was the informant?
Was his birthdate actually provided or was it just a year?
George's place of birth and residence are noted as Sumter County, SC although the crime and news reports have stated he was living in Alcolu, Clarendon, SC.
Since I knew Ancestry.Com has South Carolina death certificates for a period including George's date of death, I then pulled the actual death cert.
Block #2: The Death Certificate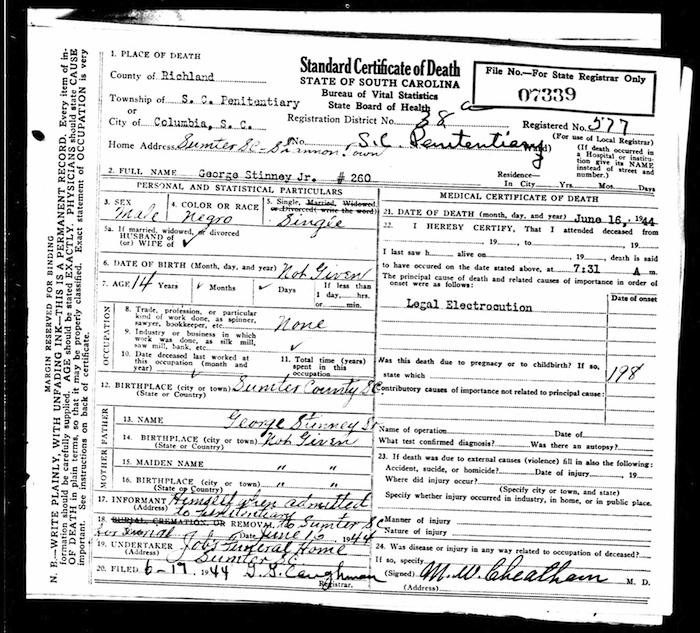 OK, now we have an actual image of the death cert. A lot of folks would just stop here too, but we STILL have to go further.
The event date IS the death date on the actual cert, but is this the case for all records like this that are indexed on FamilySearch or even on other websites? Couldn't that term be easily confused for an indexer?
The informant is NOT one of his parents or another elder…it's "Himself when admitted to the penitentiary." Imagine asking a 14 year old some of the information on this form during a normal day, forget when they've been admitted to prison for a crime they didn't commit. I bet you 9 times out of 10 they wouldn't know the info.
His birth date, his parents places of birth and the name of his mother are "not given," even though he was the informant. Who was his mother?
The field noted as "Burial Date" on the index from FamilySearch is incorrectly noted.  That was the removal date for the body. This was likely noted this way since there was no way for the indexer to distinguish between burial, cremation, or removal in the software they use. When you rely just on indexes, you don't get this kind of granularity.
George's inmate number, #260, is noted by his name. This was not on the index.
Block #3: The Census
Nearly all the news stories online note that George and his family were from in Alcolu, Clarendon, SC, but on the 1940 US Census, George and his family are actually living 17 miles away on Commerce Street in Pinewood, Fulton Township, Sumter, SC.  In the household are the following:
George Stinney, Sr., born about 1904 in South Carolina (George's father) – We've now got two sources confirming this.
Amie Stinney, born about 1907 in South Carolina (George's mother) – NEW INFO
George Stinney, Jr., born about 1930 in South Carolina – We've now got two sources confirming this.
Charles Stinney, born about 1931 in South Carolina (George's younger brother)
Catherine Stinney, born about 1935 in South Carolina (George's younger sister)
Amie Stinney, born about 1937 in South Carolina (George's younger sister)
George Sr. worked at a saw mill and his wife Amie was a laundress.  They were noted as living in the same house on April 1, 1935. It seems very possible that the family didn't live in Alcolu very long by the time this horrible incident took place.
The Washington Post story on George's exoneration notes that his sister Amie was with him when the two young girls passed by. Based on this census information, Amie would have been about 7 years old when everything happened. George's brother Charles also provided a written statement about George's alibi. He would have been 13 years old when the crime took place.
The 1930 Census tells a similar story. In the household with George Sr. and Amie (noted as Emmie) are an older sister of George's named Carrie (born about 1925) and George Jr. who is 5/12 months old (born about October or November 1929) George Sr. and Amie are noted as being married about 1925. Since Carrie was not on the 1940 Census, I wonder if she died or if she was married since she would have been between 15-16 about that time.
We've now got three pieces of info (death cert, 1920 census, 1930 census) stating that George was likely born in late 1929 or early 1930 and have nearly confirmed his birth place Sumter County, SC.
Block #4: Geography
Based on a quick Google search, Lake Marion, which is located in Clarendon County, SC. was erected in 1941 as part of President Roosevelt's New Deal.  It's very likely that George Sr. relocated the family to Alcolu due to newly created work in the area to support the largest lake in the state.
Additionally, Clarendon County use to be part of Sumter County.
Block#5: Criminal Case Files
We're lucky to have both the indictment file and the record of prisoners awaiting execution file online for George. George is noticed as inmate #260 in the execution file. This number was referenced on his death cert.
There are a plethora of records and crucial things within the file. Things that were of interest to me were:
While the search I did was indeed not exhaustive, and didn't include any offline records, interviews, etc. (I could keep going LOL), it definitely proved that you can't just go by surface information when you read news events and especially when you are researching your family.
I am eager to see what you can find to add to George's story. While his life was indeed too short, it doesn't mean that his story and the lessons we can learn from his genealogy are any less valuable.