i'm so behind on blogging, but there are good reasons why.  there has been so much going on that i haven't had the chance to update you. so, here goes!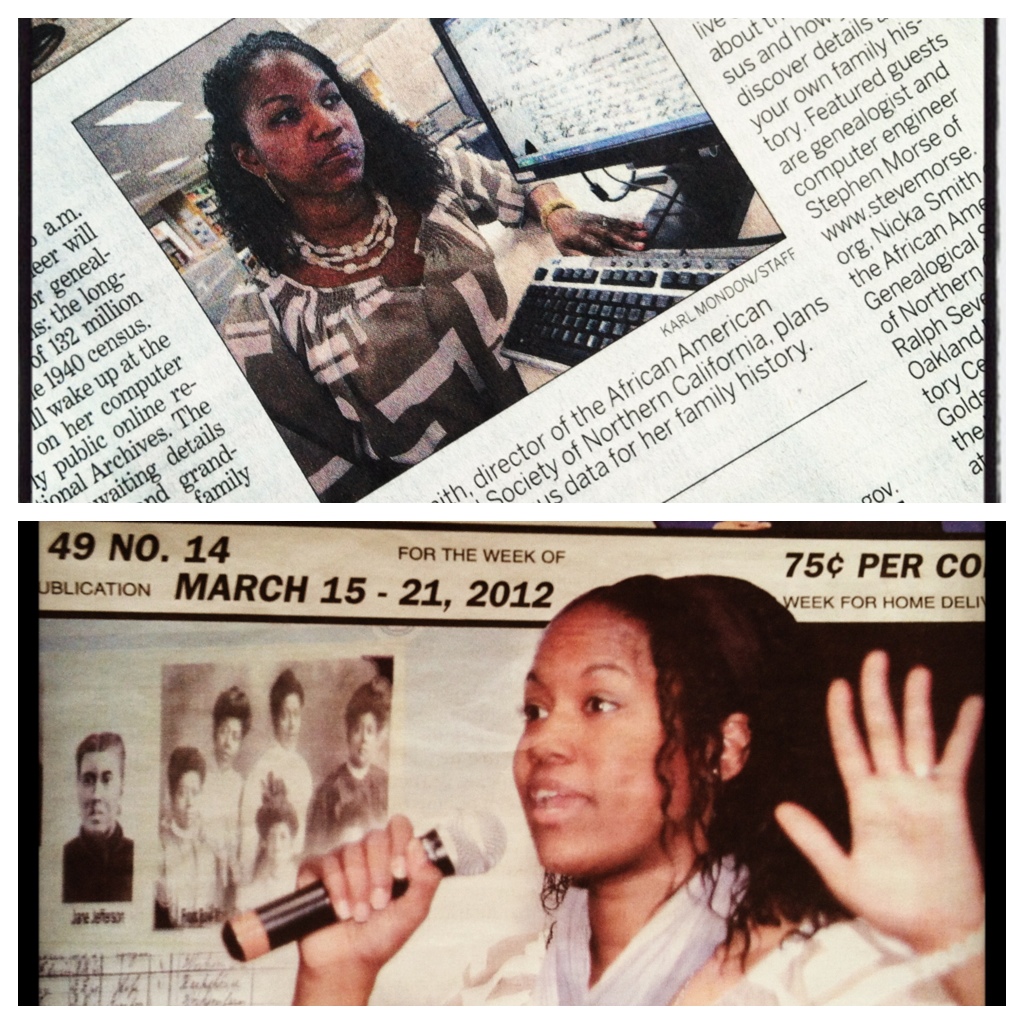 newspaper coverage galore – six papers in one month
Sacramento Bee, Modesto Bee, Sacramento Observer, Oakland Tribune, Contra Costa Times, San Jose Mercury
on march 10, i taught two workshops at the 7th annual sacramento african american family history seminar which were super fun.  the topics were tracing your family before 1870 and using technology in your genealogy research.  it was great to get together with other researchers to learn as well as share experiences.  i was interviewed by stephen magagnini of the sacramento and modesto bee regarding the seminar.  i try to give both sides of my family equal air time when speaking with media, so this interview featured information on my paternal line.
on monday, april 2, 2012, the 1940 census was released to the public after the 72 year privacy restriction was lifted.  on this same day, i was featured on the front page of three bay area newspapers  in a story written by matt o'brien of the contra costa times and was also interviewed during kqed's forum radio show (at the 24 minute mark).  i focused on my maternal line for this story. that week was crazy but so much fun and created some amazing memories for me.  i spent hours trying to find my family members, particularly my uncle, on the census.  i had lots of new finds, but have still not found my uncle.
nonetheless, the week following was wrapped up with festivities where members of aagsnc, cgs, and the general public came together to search for their ancestors on the newly released records at the oakland family history center.  while there, i met a young man who had family from lake providence, la, which is where my maternal line is from. i couldn't believe it!  what are the odds of that?  nil.  lol
festival at sea
i'm excited to report that i'll be spending a week on the caribbean.  while that may not sound exciting to you, it is for me because it's more than just a vacation.  i'll be teaching beginning genealogy workshops aboard the festival at sea, which is a chartered cruise that has been in operation for more than 20 years.  in addition to heading to places like san juan, puerto rico, st. thomas, barbados, st. lucia, st. kitts, and st. maarten, i'll have the privilege of teaching cruisers about how to trace their family history.  slated entertainment so far is fantasia and musiq soulchild. nothing like vacation and genealogy mixed together.  check out page 7 of the cruise newsletter for a blurb about my classes.
international black genealogy summit
i am honored to also share that i'll be teaching a session at the upcoming international black genealogy summit about getting youth involved in genealogy research. this is the second time this event has taken place and there was a lot of buzz generated about it when it took place the first time in 2009.  i was going to be sure i wasn't going to miss it this time.
i'll be pulling largely from my experiences getting family involved with the atlasfamily.org research team and project but also on experiences with the ancestral project which is in full swing as you are reading this.  i promise to blog more about the ancestral project soon. there is A LOT happening with that too!
these three things aren't even the tip of the iceberg for what's happening for me this year.  i would have you reading forever if i covered it all.  but be on the lookout.  stuff is happening! 🙂