as i'm sliding into 2013, i have decided to make myself go back and look at all that i've done this year. as crazy as it sounds, i sometimes feel like i'm not doing enough, especially when it comes to the community. then i take a look at posts on this blog, my facebook page, tweets, all that, and realize, i am doing A LOT for one person lol

it's more than helpful to spend some time looking at all we do. for me, it helps with goal planning and completion and also realizing what i'm good and possibly not so good at.  lol it also helps folks like my family see things that they say i "didn't tell them about."
this year has been…what can i say? i have had some RIDICULOUS opportunities come my way.  today, i can say that 2013 is shaping up to be just as fabulous.  before i get too sentimental, here's a look back at all that happened in the land of nicka during 2012.

year long projects
i was once again part of the i am america exhibit.  this time, the exhibit was hosted at the ck gallery and the malonga casquelourd center for the arts in oakland.  here's a blog post about the exhibit's initial launch at the san francisco main public library in late 2011.  the curator, kheven lagrone, is looking for another home.  i'm excited to see where that will be.  new york? paris? who knows 🙂
all year i served as project manager of the ancestral project on behalf of alternatives in action and alameda county supervisor keith carson.  we provided assistance and mentoring for nearly 200 youth in the county by teaching the basics and value of family history. this year, we worked with youth from mcclymonds high school (oakland, ca), alameda county's beyond emancipation/b2b, midrasha, and alameda county youth probation's weekend training academy (WETA)
for my day job, i was trained and conducted photo voice workshops in concord, ca and the bayview (san francisco). this innovative approach helps community advocates document positives and negatives in their environments that can encourage and discourage healthy eating and active living. they document these things through photography.  loved adding this to my tool belt of skills!
january 2012
began the year in cameroon for the arp 2 and rounded off the trip with a visit to paris.
elected to the board of directors of the california genealogical society & library.  woot!
also launched lipstick boudoir, a sexy subset of my photography biz.
february 2012
was part of an amazing team of volunteers who helped nearly 100 people begin their genealogy research at aagsnc's black family history day
wppi.  one word – amazing.  the connections i made here were priceless!  i even got interviewed while i was there.
had a great time photographing this family, who own soul sweets, a catering and confectionery company in the bay area.
launched oakland | underground.  began with photos of seventh street.
march 2012
spoke at sacramento african american genealogy research seminar on genealogy tech and tracing your ancestors before 1870. interviewed and featured in two newspapers for my part in the seminar. my first news coverage for the year and my first talking about my father's side of the family.
planned and participated in the sisterhood of the traveling lenses dallas meetup  life changing experience.  period.  video recap below, care of yours truly.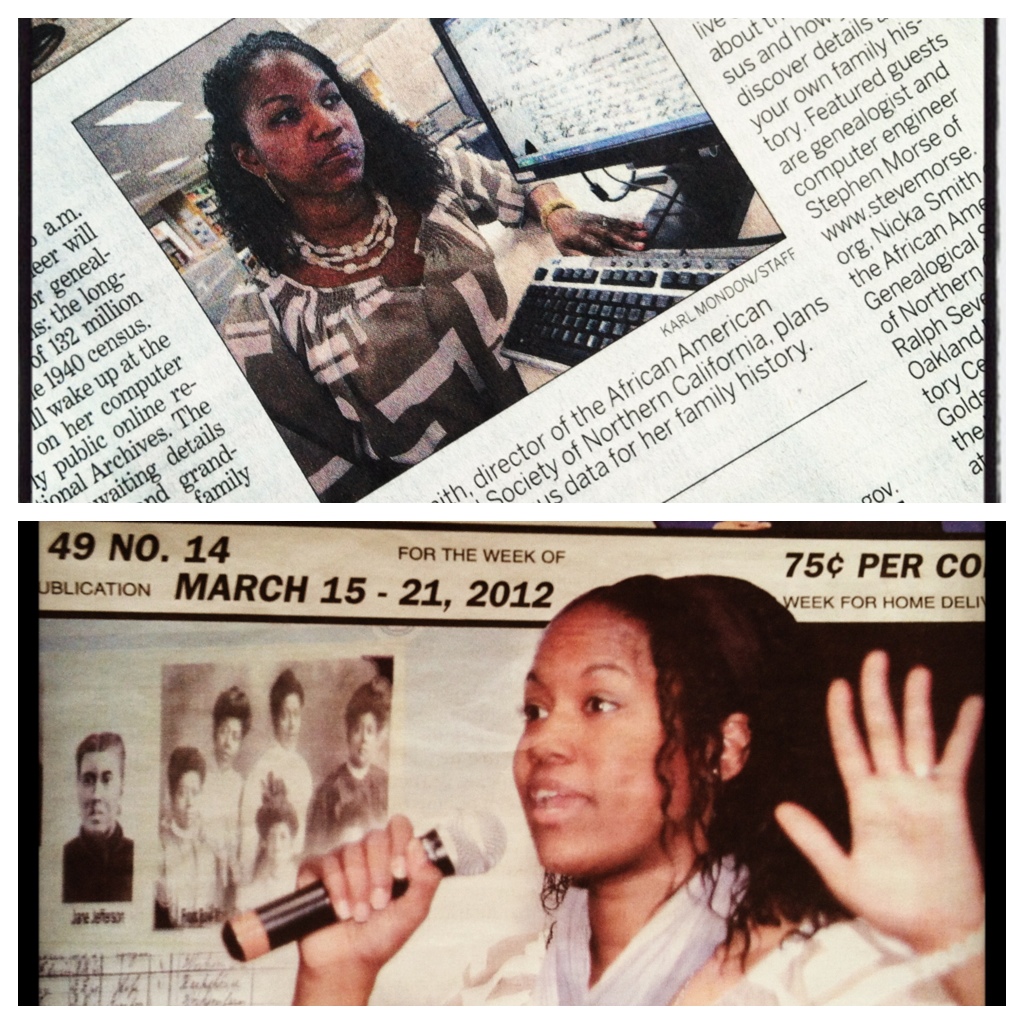 April 2012
on the cover of three newspapers in the bay area the day the 1940 census was released to the public. interviewed on kqed's forum by michael krasny regarding the 1940 census.  8 months later, i still haven't found my father or my maternal uncle.
photographed these amazing ladies in san francisco.  the vision i had came out perfect!
may 2012
featured in women of the lens exhibit by the association of minority professional photographers (ampp) and the thriving through art: second kaiser permanente employee art showcase.  looks like i'm just an exhibit maven now.  never thought i'd enter that world, but yet, here i am!  for photos of the ampp event, visit my facebook page.
photographed the amazing giving, loving, and gorgeous kit evans in oakland.  still need to post more from this session because it was bananas!
June 2012
took some time for myself and traveled down south for what…RESEARCH! i had an amazing time searching through records, discovering potential new lines of the atlas family and capturing images for my family of places we had never been – like the first place our ancestors were living after they were freed as slaves.  i also captured the oldest living male descendant of my 3x great grandfather.  it's now my favorite picture (below). 🙂
some of my work was featured in an article in the summer 2012 issue of scrubs magazine (a mag for nurses).  it was part of a story about my talented client, nurse and comedian, greg williams.

july 2012
spoke at the california genealogical society and library july membership meeting.  i presented "more than 3/5ths: myths and truths about slavery and african american identity."
i also spoke on my first cruise, the festival at sea, which is put on by the amazing folks at blue world travel.  here's a video recap of the week extravaganza.  me and my older sister feel we created the best cruise photo bomb in history.  let me know if you agree lol!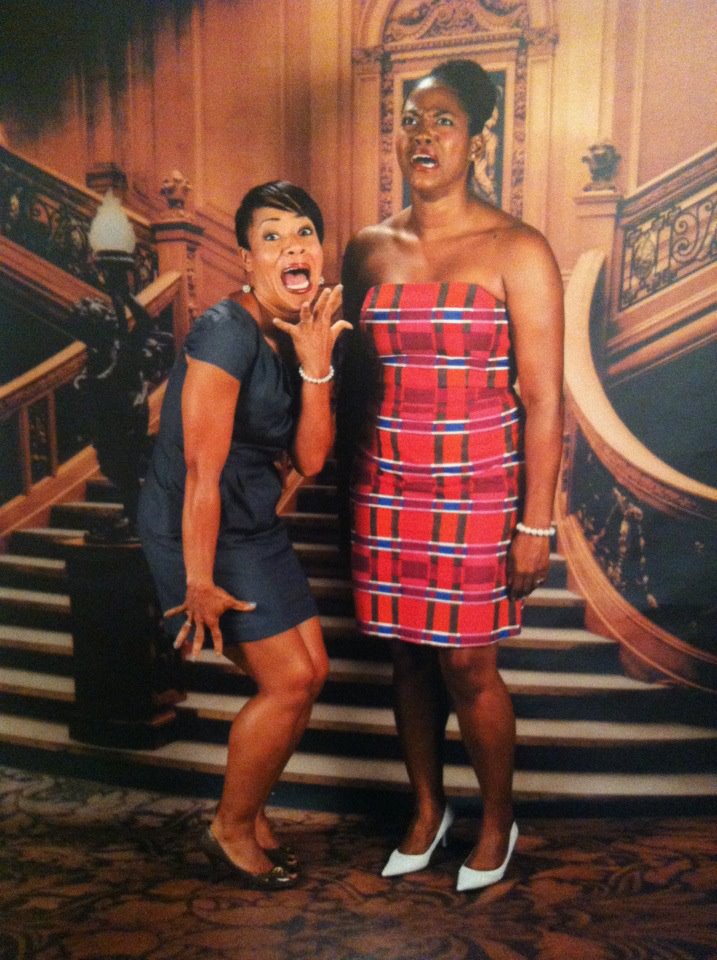 august 2012
in the words of my mother in law, i "sat my fast tail down somewhere…"well, sort of.  fit some amazing sessions in this month.  one with a super cute high schooler and another one with a sweet mother and daughter.
september 2012
watched a dream fulfilled as my soror and dear friend opened their new salon.  my camera was along for the ride. 🙂
october 2012
taught photo voice and photographed and a group of young people, y.o.l.o. at mcclymonds high school.  the images from their candlelight vigil move me every time i look at them. they are making great strides in the west oakland community.
spoke at my first international conference, the international black genealogy summit.  my talk was on youth and genealogy.  i blogged about the conference for the aagsnc blog.
i also photographed this beautiful young lady for her senior pictures.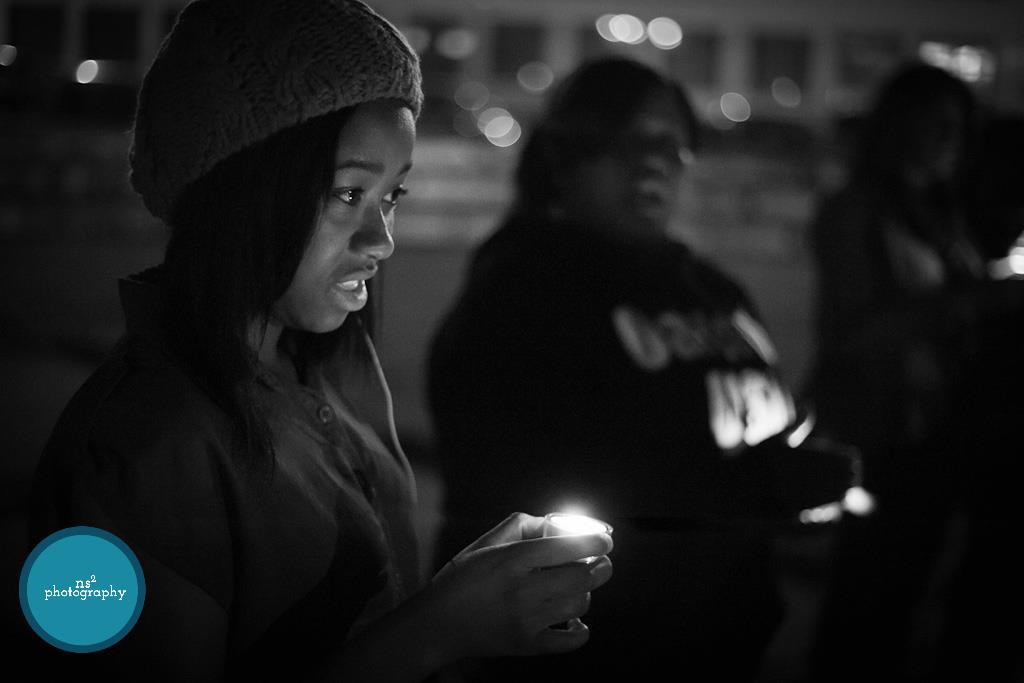 november 2012
took my first ever hands on photography class.  learned a lot from the amazing mr. russell foote.  taking a darkroom class in february.  juiced? understatement.  it's something i promised my father i'd do and i'm just now getting around to it.
an eSession i shot was featured on the bride's cafe, which was rated #3 on the top ten alternative wedding blogs list for rangefinder magazine.  it was my first ever blog feature! hey now! *does the snake*
2013?!?
i've already been blessed with six speaking engagements and at least one trip out of the country…stay tuned for another awesome year!