Black History Month is more than about celebrating our achievements. It's also about coming to terms about the gumbo that lives in our veins. Photo: My Mama's Mean Holiday Gumbo
"It's a bit of a WTF moment for the audience: We're introducing a whole new character [Mistress Sarah] late in the film [12 Years a Slave], a stand-alone character whose circumstances are slightly unique to the rest of the story. …a lot of folks may have been completely unfamiliar with the concept of the woman of color in that era being able to elevate herself to a degree, or the notion that a white master may have felt secure enough not just to have a black mistress but one that he could have a relationship with openly on that level. For the film to be at all relevant, it's got to be informative…" John Ridley, screenwriter, 12 Years a Slave (1)
In light of the recent uproar over Coca Cola's Super Bowl Ad or even the Cheerios Super Bowl Ad (the previous one above), a faction of America seems to be up in arms about race this Black History Month. Autosomal DNA testing is revealing that race in America is relative. A person's perception and what science is saying are in conflict. Autosomal DNA testing is making the case that people from all walks of life are more alike than they think and that America in that Coca Cola commercial is really what we are.
My Black History = A Genetic Gumbo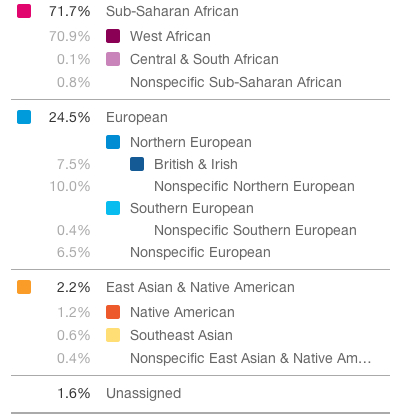 At right are my autosomal DNA results as per the company 23andMe.  Before I took the test, I would have never identified as being a quarter European.  My story is not unique. In fact, my results look like a lot of other African Americans.
The answer to this is obvious.  Somebody lied. LOL 🙂 The idea that "everybody stayed with their own" is being ripped to shreds by what our genomes are saying. As I touched on in this previous post, a number of our ancestors were not in fact "black." For my own personal journey, I want to know who every one of who my ancestors were…rapes, consensual relationships or not. Regardless of their views on slavery and the plight of African Americans or even Black History, if they didn't exist, I don't exist. As mad as that Confederate flag sometimes makes me, there's quite possibly an ancestor living inside me who supported everything it stood for. The truth is, if they didn't live in hypocrisy I wouldn't be here and by virtue of that same hypocrisy, they are now part of black history.
This part of black history is as American as American can be.
Sources:
(1) Buchanan, Kyle. "The Toughest Scene I Wrote: John Ridley on 12 Years a Slave's 'WTF Moment'" Vulture. N.p., 20 Dec. 2012. Web. 05 Feb. 2014. <http://www.vulture.com/2013/12/john-ridley-12-years-a-slave-toughest-scene-i-wrote.html>.