Genetic genealogy is the best thing since sliced bread for many genealogists, but are we keeping it 100 when we delve into such murky waters?
AncestryDNA, Family Tree DNA, or 23andMe says you're ??% African, ??% European, and ?% Asian.
50-11 people in their systems are your "alleged" cousins.
There are people showing up in your results that don't check the same racial designation box as you.
Wait, what is a third cousin?
Welcome to the world of genetic genealogy.
Genealogists, both seasoned and wet behind the ears, are jumping fully clothed into the expensive doughboy known as genetic genealogy. Some seek a connection back to their African country of origin. Others look to verify relations that haven't been easily verifiable through traditional genealogy. Many just want to know the racial percentages that lie in their genome. Whatever the case, jumping into the genetic genealogy pool almost always leaves researchers old and new with more questions than before they subjected themselves or relatives to testing.
Let this post serve as a "come to Jesus." If you've been doing work in genetic genealogy, even for a short period of time, some of the scenarios below may have happened to you or you've heard about them happening to other people. Regardless, it's time some of these things be discussed openly instead of behind closed genealogical doors or inside small circles that may not be inclusive to genealogists or family researchers from all walks of life.
NPE Isn't a Rap Group
You bought the kit. You spit in the tube. You get the results. Excitedly, you decide to test your parents to help decipher which side of the family your DNA cousins fall. Daddy and mama spit. You get the email back saying your parents results are ready. Mom pops up as mom, but Dad? He's no relation.
As cute as the acronym may be, NPE (non-paternal events) are real and a REALLY tough topic. No one ever expects this when they take a test. It's something that's super painful and while we may be more open to it being a possibility with our ancestors, it's harder for us to accept it when it's so much closer. I know plenty of people this has happened to and when they've asked their verified parent about their biological parent's identity, they get no info. Imagine growing up your ENTIRE life being told, and possibly being named after, a parent that is in fact, not your biological parent. You'd be pissed.
Nicka's Nugget: If you have a DNA cousin who is in this scenario, do as much as you can to help them get some closure, within reason. There are many emotions tied to this. If you get a message from someone in this scenario, don't sit on replying. It's hard to be transparent about a situation with a complete stranger who may hold the key to your discovery in their hands.
NEWS FLASH: Our ancestor raped, had a relationship with, or is an ancestor and slaveholder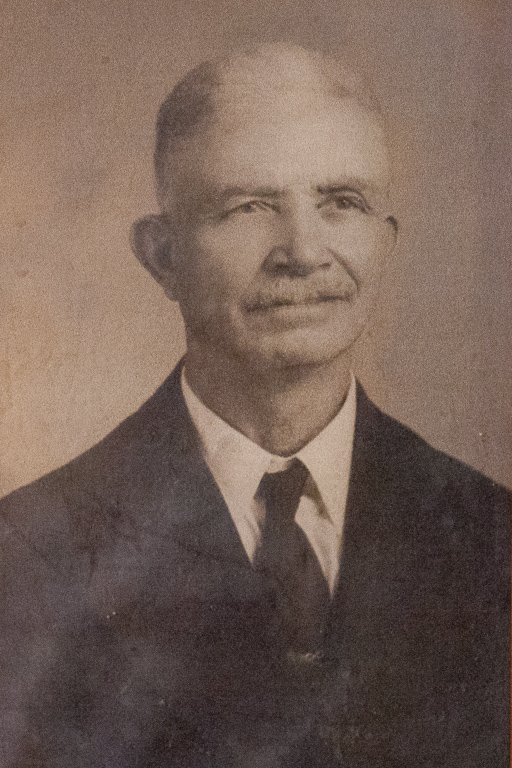 I've been identified as having 1/4 European DNA. This is the equivalent to me having a parent that has 1/2 African and 1/2 European DNA. My Euro DNA percentage comes evenly from both sides of my family. Only a brief glance at my maternal great grandfather, Cornelius James Taylor, right, is an indicator that a whole LOT was going on in his genome.
This means that there's a HUGE possibility that a noted percentage of my ancestors may have raped or had non-consensual sex with another one of my ancestors…
This means that as mad as I can get looking at the Confederate flag as I drive through Tennessee, there's a part of me that was loyal to and may have actually benefitted from what that flag meant…
This means that my ancestor could have whipped, tortured, and/or treated the mother of his child and/or his own child like chattel or a commodity and sold them off like a pair of collector's edition Jordans on eBay…
This means that my DNA cousins may have to come to the realization that Great Grandpappy wasn't as noble a man as the family thinks. This too, can be painful because it calls one to reframe the portrait they have of their ancestor.
This is the unique circumstance of being an African American or having ancestors who were slaveholders in the United States.
Nicka's Nugget: This is the reality having origins in the United States. It's our history and it's nothing we can change. As descendants of both slaves and slaveholders, we owe it to ourselves, and our future generations, to be honest about this sort of thing. People are already doing it. I always call DNA genealogy "the great equalizer;" it's showing us that people don't have to look like you to be related to you. The quicker we embrace this, the quicker we can abolish some of the ridiculous race rhetoric in the U.S. At the same time, your DNA cousins may not ever be ready to accept this. Furthermore…
Everybody Doesn't Want to Know You
You send a request to share information and you get declined. You go back and check the message you sent your genetic cousin to make sure you didn't say anything wrong. No, you didn't say anything crazy. So, why did they deny you?
There could be a number of reasons why. I, and many other African American genealogists, have seen this happen often with DNA cousins who don't identify as being African American. Some have even removed their profile pictures or any sign that they are of African descent from their profile in hopes that this will help with the issue. I've also had it happen with people who would identify as African American as well.
Nicka's Nugget: At the end of the day, it doesn't really matter. The match may not want to be bothered. They may have just taken the test out of curiosity and nothing else. Or, it's possible that they don't want to research the line you're asking about. Until they come around, focus on family lines that have folks who WILL respond. Can't beg somebody to be your cousin. It looks foolish.
If You Build It, They WON'T Come
Ever had someone eat the left overs you brought home from your favorite restaurant without asking? After you had been thinking about them ALL day? Had your "mouth fixed" as my mama says. Yeah, burned.
It's one thing to have someone volunteer their time (or be paid for it) to help you construct your family tree. On the other hand, it's another thing when a complete stranger makes an attempt to construct your family tree themselves (especially without your permission) and does so without even thinking twice about interviewing you as a resource. Suddenly, you've got 3x and 4x great grandparents living in states they didn't live in, cute little Ancestry leaves popping up everywhere, and folks sending you messages about shared relations you don't have. It's as though the offender is stepping over a trust wall that doesn't even have a blueprint.
Nicka's Nugget: Don't attempt to build someone else's pedigree without their permission. It's like asking to wear their underpants. Yeah, gross.
Let's hear it. What are some of the not-so-talked about issues you see in genetic genealogy today?